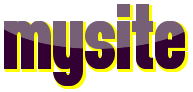 mysite
Hello world. The first word that I would to say at my first post. a new experience that will I go through the virtual world by doing the blogging. I say thanks to google who has made a free service to create a webblog. so anyone has the chance, to perform and introduce himself to the world, through the space provided.

many things that we can write in one day, but sometimes, there is little that can be useful for many people, certainly a good chance, and I will not waste it to get much benefit from this service.


On this blog, I will try to share information about seo, tips tricks blogger, and entertainment, the fundamental reason why I prefer this topic, because I thinkthis theme above, will be more to challenge me, to continue to learn how to manage a website correctly, properly and innovative.

Seo techniques will help me to surf the internet to introduce my web presence to the world, increase traffic to my blog, and get high rankings on search engines.

Blogger tips and tricks will help me to manage blog content, to make it look good, and give comfort to each visitor, to be more interactive in my blog.
The composition of this theme, I was expected to increase popularity, high pagerank and high traffic to my blog.
Successful or not sucess we are manage a blog, isn't determined by how many posts we can write every day
, but it can be seen from how many visitors who come to our blog every day, and the importance they like with the conten
t
that we provide
, therefore, I expect criticism, suggestions and comments from the readers,
your comments and suggestions
are very
useful
for
my
future
progress
.
Hello world, thank you google, welcome visitors, success for all.