Produce a relatively low temperature, using the Arctic Cooling Twin Turbo Pro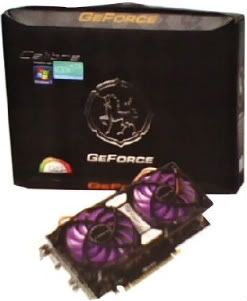 Calibre doesn't ever miss to update their graphic cards product.
Calibre
also known always use 3rd party cooling system on each product. Not only that, Calibre is also identical to overclock, almost the entire product launch always has a core and over clocked higher than the reference version.
It is also applicable to their latest products, Calibre GTS 450, this graphics card comes with 1GB DDR5 memory capacity. This card even comes with an unusual HSF. GTS450 provide solutions to a large cooling system, and two fans who also are large. HSF is the Artic Cooling Twin Turbo PRO which has 3 heatpipes that distribute heat from the GPU to the heatsink and removed through the two fans.
So, how exactly effectiveness of HSF? after going through 3DMark Vantage testing to determine performance, and the resulting temperature (tests conducted by an agency in Indonesia). In 3DMark deault settings with 1280x1024 resolution that all successfully passed without a hitch with a score of 8766. This score is higher than the scores obtained by the GTS 450 references.
In Gamming Benchmark DXII, using stalker: call of Pripyat. this Graphics card has good performance. and on more detail
picture
test with 1920x1080
resolution,
on average this card produce 79 FPS. What is even more surprising when the temperature measurement is produced, because the graphic card produces a very safe temperature. The heat generated when idle is
26°C
, and
38°C
at full load. This proves the ability of HSF Arctic Cooling, that used is work effectively.
But you should know, if you think the performance of this card is not too different from previous series namely the GTX 460, you seem to be a little disappointed because the results obtained from the tests above, it isn't better than that obtained by the GTX 460. but it can be understood because the specifications of both which are very much different.
Technical
Data
:
GPU
codename
:
GF106
,
Core
Technology
:
40nm
,
Core
Clock
:
851mhz
,
Stream
processors
:
192
,
Memory DDR5
,
Memory
Clock
:
950mhz
,
Memory
Capacity
:
1024MB
,
Memory
Interface
:
128
bt
,
D
-
sub
:
N
/
A
,
DVI
:
2
,
HMDI
: 1
,
Display
Port
:
N
/
a
UAPUJ4GD7AFK