Rely the reference boards, reference cooling, and factory overclocked
support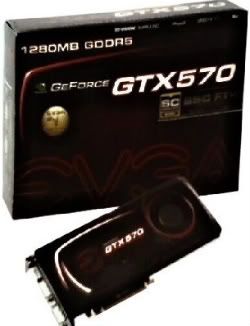 Recently, NVIDIA has launched a chip-based products GF110. One of its products is the GeForce GT570. Like the other new graphics card launch, many manufacturers who develop their products from this chip, one of them is EVGA

Although the GTX570 is still a new product, but EVGA respond quickly. In fact, EVGA trying to create product with the stamp "SuperClocked" (SC), SuperClocked EVGA is one of the three series of factory overclocked and is the lowest ranked of the three series. for this product EVGA raise the clock speed of 65 MHz for the core, 130Mhz for the shaders, and 25Mhz on the memory.

For their factory overclocked product, the EVGA still believe with the stock coolling vapor chamber, the
property of Geforce GTX570
. as well as PCB design that still uses reference board. Chip GF110 that became the center of the process on the GeForce GTX570 comes with 480 shader or called CUDA cores.
Just by making some changes in the power management and cooling.
The amount is the same as GeForce GTX480, the high-class monster graphics card owned by NVIDIA.


This change makes GeForce GTX570 work more efficiently and lower temperature
. In the testing phase,
the core graphics card
temperature
at idle is 49°C
, and it reaches
85°C
when full load. Although somewhat higher, the temperature is much lower than the GeForce GTX480
temperature
, which reached
95°C when full load
.
Not only that, you also will not hear the noise of the fan in the cooling system.
Other advantages ofthis product can be seen from the results
of 3D Mark Vantage test, which achieved a score 21,793 points for 1280 x 1024 resolution, and 15,766 points for 1920 x 1080 resolution. same result was also obtained in gaming benchmarks DiRT2, stalker: Call of Pripyat, and Crysis Warhead. Although sometimes, in the Crysis test with a 1920 x 1080
resolution
, FPS obtained become lower up to 27fps but the game is still comfortable to play,

And for those of you who are not satisfied with the performance of this product, NVIDIA provides support the international answering up to 4way that will make this graphics card capable of devouring all the latest games without resistance.
Technical Data
:
GPU
codename
:
GF110
,
Core
Technology
:
40mm
,
Core
Clock
:
797Mhz
,
Stream
Processors
:
480
units
,
Memory
:
GDDR5
,
Memory
Clock
:
975Mhz
,
Memory Capacity
:
1280MB
,
Memory
Interface
:
320
bytes
,
D
-
sub
:
N
/
A
,
DVI
:
2
,
HMDI
: 1
,
Display
Port
:
N
/
A