High Performance
Graphics Card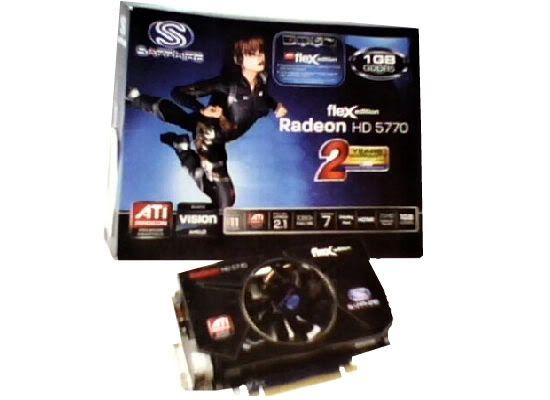 Sapphire improve HD5770 graphics card product line by introducing SAPPHIRE HD5570 Flex Edition, with 1GB memory size and interface GDDR5, graphics card comes with a cooling time that is different from previous series. Although not many changes made in this graphics card. From the display this product looks similar to Sapphire HD5770, which is different in this series lies in the connector DVI-I Dual Link, which is found in the graphics card flex edition only
.

As information, a single link DVI port is only capable of displaying images with a maximum resolution of 1920x1080 and a refresh rate of 60 Hz, while the Dual Link DVI ports capable of displaying images up to 2560x1600 resolution. other than that a DVI-dual link also has increased in terms of speed and signal quality, which can provide comfort to you when playing games or watching movies.


Sapphire
HD5770 flex edition has supported the use of ATI Eyefinity with 3 monitors without requiring additional cables Display Port which are quite expensive. Sapphire flex edition also allows you, to use 4 monitors in a single graphics cards in mode single Large Surface (SLS).

In some tests, such as by using 3DMark Vantage by several agencies in Indonesia. test results showed that the latest graphics card from Sapphire have good performance. In addition, testing gamming also has been done to this chip to obtain realistic results. and the result, these chips can go through all the testing with satisfactory results.


For main stream graphic cards category, these products include products that have high performance when compared with other products in the same category. with the test results are satisfactory and low temperatures, this product can be your choice to accompany you play games, or watching movies with good quality
picture
. And features ATI Eyefinity, will make you more comfortable while you are in front of your computer.
Technical data :
GPU
codename
:
Juniper
,
Core
Technology
:
40nm
,
Core
Clock
:
850MHz
,
Stream
processors
:
800Unified
,
Memory
:
1200Mhz
,
Memory
capacity
:
1024MB
,
Interface
memory
:
GDDR5
,
D
sub
:
-
,
DVI
:
2,
HDMI
: 1
,
Display
port
:
1