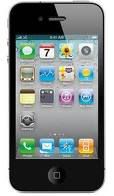 have the latest phone from apple, namely iphone 4. This isn't only a desire to enjoy the sophistication of multimedia fiture. However, iPhone 4 also has become a trend gadget in 2011
with some new innovations in
it, which is increasingly moving towards the use of data as the main base phone. So, what's the iphone 4 advantage, when compared with the previous iphone issued by apple. please read the following brief explanation.
as an example, I'll try to compare the iPhone 4 with the iPhone 3Gs.
Data Access
When compared with the previous iPhone, namely iPhone 3GS. iPhone 4 have been modified as well as possible to speed data access and provide convenience to the users. For example on iPhone 3GS still using HSDPA data network, which has download speeds up to 7.2 Mbps. Meanwhile, on iPhone 4 have used HSUPA networks, with download speeds up to 5.8 Mbps.

Hardware
in addition, iphone 4, the processor has a larger capacity than the processor capacity in iPhone 3GS. iPhone 4, has 1GHz processor capacity, with 512 MB of RAM (Random Access Memory), while in iPhone 3GS use 600MHz processor with 256 MB of RAM. Of course, the improvement of hardware and data network in the iphone 4, have been able to cover the shortfall in the previous gadget. even it is not only done in hardware but also software that includes the features in it. so I think it's fair, if now iPhone 4 be hunted by the lovers of gadgets.

Application
iPhone 4 have an application that is certainly different from the previous gadget, because the gadget is equipped with FaceTime applications, which can be used for videocall activities, when the feature is activated it will show two faces of those who are conducting a conversation using videocall.
IPhone front camera has VGA resolution, but unfortunately, to do FaceTime you have to use wifi, and both handsets have the same type, and have the same application as well. But if you do not already have iPhone 4, you do not need to be disappointed because you can still use the FaceTime to make a videocall, by injecting the application to the Macbook.
in addition Facetime, there are also other leading applications contained in iPhone 4, namely Retina Display application, this application has a screen resolution of 960x640 px. This resolution certainly larger than the iPhone 3GS which has a resolution of 480x320px.