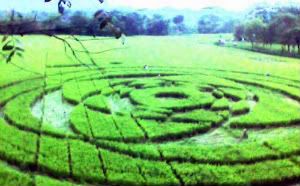 UFO trace - img.1
UFO phenomenon has existed and was known for centuries ago, but until now no one could prove it scientifically, but many found some traces of their existence in some countries, how about you, do you believe that?
learn more about the same events that occurred in several countries, many phenomena which revealed that the UFOs traces was found are man-made (an engineered only), so this news is also hard to believe, especially about the existence of life beyond earth creature, because until now there was no physical evidence to prove it.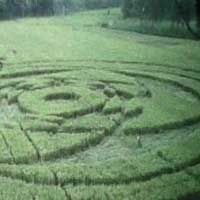 UFO trace - img2
as happens today in Sleman (Yogyakarta, Indonesia). Sleman residents were surprised by the discovery of traces of UFO in the middle of rice fields owned by a citizen, people who are surprised by phenomena that occur, in droves to go visit this place. though, to see the whole pattern they have to climb a high cliff nearly 100m, because the diameter of the pattern formed more than 60 meters. and only visible from the heights. but didn't dampen their desire to see it.
about pattern formed looks so neat, some experts Indonesia stated if this phenomenon is not caused by nature (eg: wind). but that doesn't mean it's not manmade. to investigate it, the local police have set up police lines to prevent damage to the area. and will check more about the phenomenon.

Unbelievable, but that's what has happened. or maybe this is just a joke
,
UFO landed in the middle of rice fields .. ow! maybe they need rice to eat!? and maybe tomorrow they will land on the supermarket to steal the sausage and vegetables. what do you think?